GoPro is the brand name for action cameras and also used GoPro for Vlogging. Many popular YouTubers are using GoPros for creating high-quality videos for their channels. However, with so many models available, it becomes difficult to choose the best GoPro for vlogging.
Why GoPro is the best for vlogging?
Compared to other cameras available in the markets, GoPros offer many benefits. These are portable which makes it very convenient to be used for vlogging.
GoPro can be fit into the pocket easily. The small size also helps to prevent getting a lot of attention when using in public places.
The audio of most of the cameras is not up to the mark, and an external microphone becomes very essential especially when vlogging. It can be complicated to carry the extra piece of equipment and to set up the equipment.
Audio quality is excellent in GoPros. Latest GoPros are also less susceptible to wind noise. GoPros are also the best chose for those who are looking for 4K cameras at the budget price.
GoPros though tiny crease amazing 4K pictures similar like to the expensive large sized cameras. When you are using a camera, it is evident that proper care has to be taken about them as the cameras are expensive and easy to break.
But get the right protective gear, GoPros become sturdy. GoPros are also water resistant, well the recent once, which is one more interesting feature about these little ones.
There are also some disadvantages that have to consider while buying GoPros for vlogging. The battery life of GoPros is mediocre. One has to keep extra ready batteries.
One more thing to remember is that all the models do not have the exchange of batteries option. Another disadvantage is that an external microphone cannot be easily connected to the GoPro.
There is no flip screen which would have been a significant advantage for the vloggers, if it was present in the GoPro cameras.
Which GoPro is the Best?
There are many choices in GoPro's five generations of models for vloggers. Vlogging is becoming a professional career for many people. Starting a vlog is not difficult, the minimum requirement for successful vlogging is a good camera.
GoPro Hero 5 Black:
This camera is waterproof and is very small. It has an ultra wide angle lens and might not be the best for all shots. This is probably the best option for vloggers who want a good quality camera at a budget price. Another exciting feature of GoPro Hero 5 Black is the built-in image stabilization. This feature helps to make the videos look professional and smooth. There is also a built-in video editor.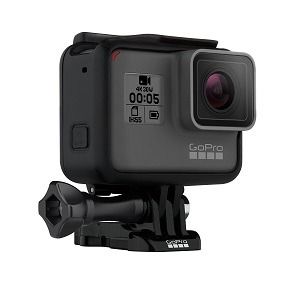 Go Pro Hero 6 Black:
This is the best action camera now available in the market. This allows exciting recording adventures. It comes along with many accessories that make a recording of the video easy.
The camera can be carried easily in the bag, and there is no need for any waterproofing casing. The Quick stories app of GoPro is excellent for vlogging.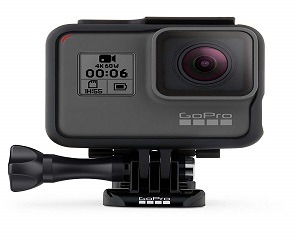 GoPro Hero 5 Session:
This comes with decent features and the main benefit one can get from this model of GoPro is the size and the easy portability. Built-in image stabilization, 4K video recording, and better voice controls make it one of the good choices for vlogging.
GoPro Hero 4 Silver:
Though an old model is recommended for vlogging as it has a screen. Video can be captured in 4K, 2.7L, and 1080 p resolutions. High-quality video can be recorded at a better price. Touchscreen at the back of the camera allows navigating through menu features and adjusting the settings easy.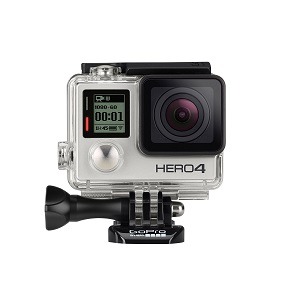 GoPro Hero 4 Black:
The newer versions of GoPro cost more, and for those who are looking for a decent camera at a budget price, this is the best choice. GoPro Hero4 Black was one of the best performing and most advanced cameras once.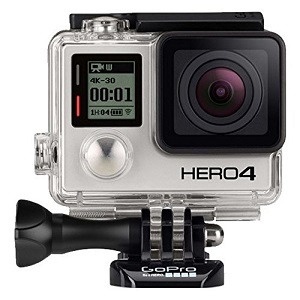 4K videos can create and those looking to make vlogging their career but want a camera at a lower price, this one is recommended.
GoPro Hero Session:
This is ideal for vloggers with a tight budget. This is easy to use, and excellent video footage can be quick captures with one button control system.
Easily carry around as it is very portable. One disadvantage is that no separate microphone cannot add. There is also no facility to change the battery.
Some best accessories come along GoPro cameras. These include the Frame Mount which allows adding the camera to the mount and pick up audio.
The 3-way mount is another accessory that helps a better grip and ensures strong shot is got. Also have a stabilizer because, without it, GoPro video footage may be a bit shaky.
Using a dedicated vlogging camera might be an expensive option everyone might not afford to buy them. Using a GoPro is easier. Walking with larger cameras and filming the surrounding. GoPro APP gives full control of GoPro right from the mobile.
It is like a remote control and a smoothest app. Do check the audio quality as it is said that the audio of GoPro Hero5 Black and newer versions of quality has dropped and GoPro Hero44 is better in the Audio department when used outside the waterproofing casing.
Few precautions have to be taken such as avoiding low light conditions while using GoPro creating videos for channels.
Rigiet – Advanced Stabilizer for Your Phone & GoPro
If you are ready to capture every moment of your life with smooth and study cinematic videos just go for Rigiet. Right best suits for Phones and GoPro's. It has six shooting modes for every situation.
The engineer spent their tremendous time to design Rigiet Stabilizer, the user-friendly portable stabilizer that you can adjust the position by hand the gimbal stay in the same position that you positioned.
Features Of Rigiet:
Rigiet gives Smooth, motion time-lapse, auto track, panorama and long exposure capabilities.
The Stabilizer will keep you to shoot craziest snaps, no need for positioning craziest angles.
It has easy to use button control panel like joystick, camera control button, power button and mode change button.
Automatic power off/on, change photo mode to video mode, Zoom in/out and front and rear cameras are available.
Adjust the camera direction by adjusting the stabiliser by hand, the gimbal will listen to you as your own adjustments.
Rigiet support for GoPro, if you are an action film fans, you can shoot cinematic captures with Rigiet easily. It supports GoPro adjustable stabilizer just like a tripod.
Rigiet can use to any tripod without any external accessories. It gives tripod support, two-way charging.
At a time you can charge a phone with a USB support which is on top of Stabilizer and Rigiet charger pin on the handle.
It supports Live Streaming, you can stream videos on Live through your phones. At the same time share it through social media. You can trust your phone that Rigiet can automatically charge your phone.
Rigiet supports seven shooting modes, whenever you like to photograph in a landscape, slow motion or portrait you can adjust it accordingly.
It supports three Panorama modes, like 180 degrees, 330 degree and 12 photos at a time with 12 pic wide angle mode.
Rigiet is the only one best accessories for your phone and GoPro. Portable and adjustable according to your angles. Share directly to your besties at the time of shooting stream Live.
GoPro's New Fusion 360 Camera [Review]
GoPro Fusion is a new action Camera entering into the world of 360-degree view. GoPro Fusion allows users to interact with the new way of an approach using the 360-degree view. This action camera manufactured to make significant VR effects and announced GoPro New Fusion action camera for Virtual Reality Content.
The company announced that GoPro is taking to next level of VR content, it can pilot 5.2K spherical camera it's featured as all six GoPro cameras in one for filming 360-degree content state of the art of spherical view. It provides immersive 5.2K VR view as well as interactive videos and images.
Key Features of GoPro's New Fusion 360 Camera:
Fusion 360 cameras work as a 360-degree action camera and highly advanced feature such as the capability of capturing high-resolution 5.2K with 30fps videos and photos.
It can create impressive content and included over capture a new solution to captures on VR content as well as 360-degree action filming 360-degree spherical action edges.
The Fusion can capture 360-degree video footage for images you can drag and move to the area surrounding while you watching on PC or mobile devices. As we all know new mobile VR app has arrived for YouTube video views.
GoPro announced that " Fusion is equal to six GoPro cameras combined into one action camera". It works at GoPro mounts and headless accessories so which makes easier for transporting.
GoPro fusion was designed fully functional for both on VR and non-VR captures which allow highly professional videos and photos. Because of its fusion 5.2K features, it can automatically convert over captured creativity.
According to GoPro's announcements "they are going to work with closely partners, pilots partner, agencies, brands and content professionals".They will roll out during this summer of 2017.
Fusion is best handheld device best seen with VR devices on Mobile phones. It has released the official video the quality of the footage was extraordinary and is useful for any type of activity.
GoPro's fusion is the waterproof and rugged camera, featured with two lenses one on another side of the device. Fusion can compatible with all range of GoPro mounts and accessories.
The details about price and more details about where to order were not yet announced, we hope they will come up with all details soon.
GoPro announced a new Fusion 360 action camera of 5.2K can create immersive effects on the 360-degree world. This is an ultimate guide to go deeper about GoPro's New Fusion 360 Camera.
GoPro HERO6 Review – The Best Action Camera with 4K
Good news! For all camera lovers that GoPro Hero6 Black is rolling with amazing features that filling the dead dreams of the camera lovers and shooters. Just wipe the old spiced equipment with extraordinary GoPro Hero6 Black by giving the long lasting life to the videography. Every time GoPro is bringing the innovative camera technology that completely immerses the users of being in the real world of imaginary. The advanced features are being emerged through the GoPro Hero6 Black.
What will be the exciting features of GoPro Hero6 Black?
Is it could be the worthy than other competitors?
To what extent it can fulfill the user expectations?
To fill all those blanks just go through the features that it has adorned the captured moments.
Extraordinary Features of GoPro Hero6 Black
2x the performance with high resolution:
The GoPro Hero6 Black records 60 frames per second that mean clips of 4k 2160 pixel resolution.
1080p 240and 4k60 can turn the highlights to playback with slow motion.
Enable quick stories:
Hero6 Balck transfers the video recording to the smartphone as the excellent video by automatic editing through GoPro app that can be shared on social media immediately.
High-quality image:
The optimized GP1 chip in GoPro will enable the users to record the smooth, high quality and stabilized video.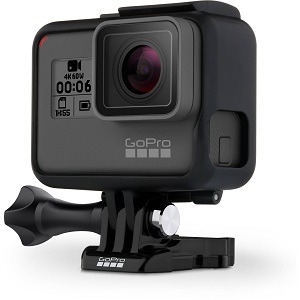 High-Efficiency Video Coding:
The simultaneous activity of saving the storage space by providing the high-quality video is available only through Hero6 Black through H.265 codec named as 'High-Efficiency Video Coding.'
Advanced stabilization:
The camera can be mounted to the gear and holding in hand can give the more sophisticated video stabilization with the smoother footage.
Water Proof:
The GoPro Hero6 Black is the waterproof device that resists up to 10 meters or 33 ft.
Elevating the footage at low lightening:
It gives the superior quality image even recorded in the low lighting conditions.
GoPro Hero6 Black Camera Specifications
Widescreen capturing of a video is possible.
The resolution of the photo is 12.0 MP.
JPEG and RAW are the supporting recording formats.
GPS is available.
384×2160 is the maximum video resolution.
Withstand up 33ft in water.
Stereotype microphone mode is available.
Microphone eliminates the wind noise.
Built-in display form factor is equipped.
The captured video is uploaded to cloud server through wireless activity.
The type of the camera is mountable.
It is available on GoPro shopping cart at $399.99.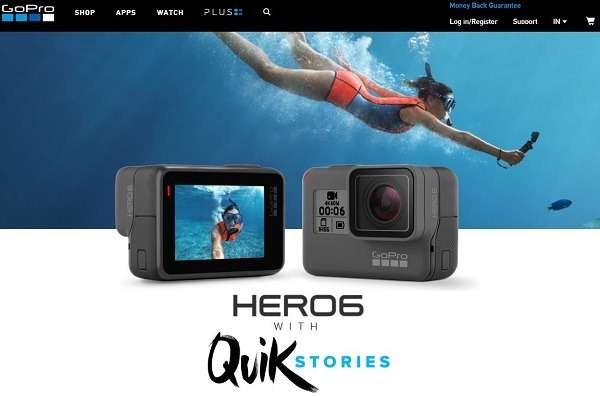 If you want to produce the creative video at an affordable price, then go on using the GoPro Hero6 Black which is more demanded in the modern video marketing and advertising world. Be the one to deliver the ultimate experience to the audiences as the professional videographer through GoPro Hero6 Black. Mount every captured moment in your hands by using this mountable camera.
GoPro HD HERO4 Black Edition Camera and Business Live Streaming [Review]
Now everything is going on with 4k cameras, which gives the very high resolution for the recorded video. To have more entertainment while capturing the video GoPro HD Hero 4 has arrived with stunning additional services.
The recorded video in this camera will give the real-time experience of being in that situation.
Features of GoPro HD HERO4:
The main upgrade that has been featured in it is that it can capture the 4k videos of 30, 24 0r 25 frames per second.
It supports users to activate the superview mode which could be wider angle for different resolutions.
The user can record 2.7k videos at 24, 25, 30, 48 or 50 frames per second.
It can be used to capture the moments of very slow motion videos.
It gives the image with the extensive exposer to hold the astounding at the night time especially.
It has two more additional capabilities that we can get the videos in flat profile and color profile mode.
The settings button is built on the front of the cam to access the required files easily.
We can manage the GoPro settings on mobile by downloading GoPro app through wifi.
It supports up to 64 GB micro sd card and a microphone to have a fine voice for the recorded video.
How to Live Stream from GoPro Hero 4 to PC:
First of all, you just need to download the GoPro app of FFMPEG on your system.
Now starting pair GoPro Hero 4 with the system by clicking the pair option in that app.
At the same time swipe, the enable pair mode and then press the wifi button on camera by providing the pin.
Then it shows the successful completion of pairing.
Using ffplay:
Now open command prompt then gives the ffplay – f mpegts – i udp: // by selecting the Hero4 then it gives the local IP of 10.5.5.101…….
Enter the IP in command prompt then the warning message will be notified then hit on allow access.
You can view the live streaming.
Using VLC:
Go to media then open network stream by clicking the stream.asx which shows the play option.
Then it starts live streaming.
How to Livestream on YouTube, Facebook and Twitter using GoPro
On twitter:
Just download the apps of GoPro and Periscope on mobile.
Make connections of GoPro Hero 4 to mobile by using the app.
Click the 'connect your camera' then choose the Hero 4 as our desired one.
Just hit on continue and then go to periscope then click the broadcasting option.
This automatically directs to start broadcasting icon then start clicking on to live stream on Twitter.
On Facebook:
Just get a Live4 app on mobile and hit on '+' by using login details of Facebook.
Then select start on a button and cli9ck the record option by sharing option.
Now it starts live streaming on Facebook.
On YouTube:
Click on YouTube live icon then get server URL and key.
Give FFmpeg link on command prompt as given to connect on PC and the tool of streaming in camera mode.
After a while, it starts streaming of live recording.
Conclusion:
To get the incredible experience of joy from the World just go on with GoPro HD HERO 4 in hand while making tours. While you are away from the family, this will bring them closer to you.