No one has left without knowing about the mobile as it is the daily usage device. Video usage is usually more than we expect. Most of the video advertisers are choosing this platform to explore their brand by launching the Mobile Video Advertising.
Mobile Video Advertising
Most of the users are clutching towards the mobile usage and the browsing through this device will hold less data usage.
For example, the YouTube plays a vital role in holding the mobile users than any other device. Along with the video that has been placed in the YouTube channel the video ads have been merged.
These may be in-stream, pre-roll and post-roll ads. Through the successful launch of mobile video advertising, the ROI will be rapidly increased.
The audience involvement in sharing the video will drain huge engagement.
Mobile Video Advertising Platforms
YouTube:
YouTube mobile app with the advanced features has stolen the plenty of users and this has billions of users by spending most of the time to watch videos. On this, the advertisers can place in-stream ads or skippable ads.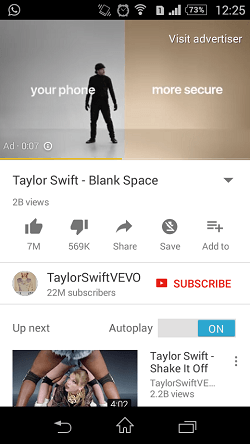 Facebook:
The best feature on the Facebook is the auto play ads which are being played with the scroll of a Facebook profile of the user. As it has more than a billion users everyone will be directed to view the video ad displayed. This can evaluate one's brand in very less time.
Vungle:
Most of the advertisers are much familiar with this in-app video advertising app. The rare offer of Vungle Premium will provide the benefits of gathering ultra-tools to reach the audience which in return makes customers.
NativeX:
Most of the mobile apps and games will prioritize the NativeX, especially for mobile video advertising. It can support different types of ad formats that are being designed by the video advertisers by forecasting the analytics that makes the huge revenue.
Mobile Video Ad Formats
Since now we have discussed the mobile video advertising but in that, we have different categories which are being rolled to grab the audience attention.
In-stream video ads:
These ads most worthy ads which guarantee to engage the ad with a huge audience. These ads are of again different types like pre-roll, post-roll and mid-roll which can gain the higher click through rate. These ads can be played before, after or middle of the original video while playing.
Banner ads:
From the name of these ads, we can say that these ads will explore the brand and these are mentioned with a specific title at the top or bottom of the screen where the ads are displayed. These can be viewed by expanding the mobile screen.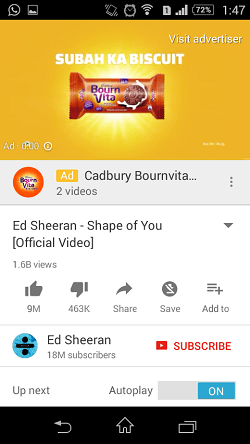 Native video ads:
With the involvement of these ads, the audience will never feel that they are watching the ads and these seem like interesting to watch as the native video that has been placed. The native video ad will definitely blow the brand name at the targeted audience.
Rewarded video ad:
These types of video ads are most demandable in the video advertising platforms. To engage these ads with plenty of audiences they will be offered with some incentives like gifts coupons or vouchers which give some entertainment to watch those ads.
Interstitial Ads:
These ads will roll around the screen of the mobile when the particular app is closed or loading to open. This has the special feature like 'call-to-action' which can hook up the audience in real time.
Mobile Video Advertising Trends
VR 360 degree advertising is going to be the viral and challenging concept for video advertisers while launching ads.
Location based advertising is the key concept to blast the brand at the relevant audience.
Video optimization will be huge demanded as to make different formats of video ads.
Huge expectations on ROI can be predicted though it has the more than they expect.
Mobile gaming is the most focusable world to bombard the video ads which establish the brand awareness among the gaming players.
Global Mobile Video Advertising Statistics
The global investment for video advertising on mobile is $592.43 billion.
$189.06 spent on mobile video advertising just only in the US.
By comparing the overall ad budget the only through mobile it's getting 22.3% of Global income.
In the category of Global mobile video ad market, Google and Facebook are showing upper hands by being in 2/3rd place.
The click-through rate for the in-app mobile ads is 0.56%.
The ad revenue of Facebook only through mobile is 53% which is unbelievable.
The world's number one trading country China has spent $22.14 billion on mobile ads.
The UK is in the next place to spend much on mobile video ads, i.e., $7.24 billion.
Mobile Video Advertising Best Practices
Marketers are integrating their mobile video marketing strategies to get benefitted with the publishers and to provide the customers with the best experience. The mobile video ads are growing more than 200 percent from the previous year. Even companies are spending significant revenue for mobile video advertising today and were earning better income and customer engagement levels via mobile. Now marketers are competing for one another with creative practices in mobile video advertising and participating in the competitive race to reach their targets. Here are some best practices that marketers are following in mobile video advertising.
Short form mobile videos
Marketers are following the creation of their videos in short form and simple form to make the customers get clear about the message conveyed by the brand through video ads. Viewers were also interested in the short form videos rather than long-form. So, marketers are following the same to reach the consumers online.
Skippable Vs non-Skippable video ads on Mobile
Marketers included the skippable and non-skippable video ads as their marketing plan because many viewers on mobile were watching both forms of videos equally. Sometimes they may not be interested in the ads and have an option to skip, and unskippable ads will remain up to 15 to 50 seconds long. From the research reports, it was revealed that the content which is attractive and creative got good responses from the consumers for the ads.
Relevant content
Marketers are avoiding the fake backlinks and popup on their sites and making their videos bandwidth get adjusted with the mobile user's bandwidth to make the viewers comfortable on their devices. The viewers are also interested in the relevant content.
Benefits of Mobile Video Advertising
Mobile Video Advertising is the new form and viral form of advertising today because more than 85 percent of people were using the smartphones and connecting with the brand videos online across the globe. So, there is a great chance to meet the huge range of audiences on mobile phones. It reported that more than 90 million people in the US were using the Smartphone to watch videos, and it was expected to be increased to 126 million when we reach the year 2018. More than 70 people were using their tablets only for better video watching through the devices.
Benefits of Mobile Video Advertising
Easy to Connect
Marketers were switching towards mobile video advertising as it is a very effective medium to reach the audience at their fingertips and have better interaction rates. With the increase in the usage of smartphones, everyone well versed in the applications, usage, and video watching, and connectivity. So, it is beneficial to go with mobile video advertising.
Better Interaction Levels
Engagement of audience previously with the desktops and laptops via social networking platforms were generally in use. since, from years and with the development of the smart technology across the world, it becomes effortless to interact with the consumers if the marketer was implementing the mobile video advertising strategy in his marketing plan.
Better Sharing
Sharing through mobile devices is very easy when we compared with the other devices in use. There are multiple platforms designed especially for mobile phones especially for the sharing of interesting videos on users choice and as well as many applications were also got developed for better advertising and reach.
Better Tracking
It is easy and accurate to track the mobile video analytics and to make the consumers reach your brand in real-time. Even call to actions on mobile video advertising has more chances to interact with the customers in real-time.
Better Engagement
Mobile video Advertising achieved the highest CTR, and the viewers also have an option to skip the video ad, which makes them comfortable.
Target Local
Localize your Ad, make it easy to drive views, and also share and have a customized CTA.
YouTube Mobile Video Advertising Steps :
1) Upload your Video Content to your YouTube Channel.
2) Go into Google Adwords and sync your Adwords account to your YouTube Channel.
3) Create a new Campaign and choose "Video Ad."
4) Select In-Stream or In-Display
5) Provide Desired YouTube Video Like and Channel Link to promote
6) Select Targeting Options to Mobiles/Tables only
5) Submit for approval to the AdWords team. It will take a few hours to approve.
Facebook Mobile Video Advertising Steps :
1) Go to your Ads Manager
2) Choose Get Video Views
3) Select the Page URL you want to advertise for or enter it.
4) Customize the Setting of the audience you want to target and introduce a budget for the ad.
5) You can also upload in the Video section, upload the video you want to use in your ad.
6) Choose a Catchy thumbnail for your video ad. There will not be more text on the thumbnail
7) Click Place Order to save your new video ad.
8) Wait for review and approval.
Some of the Best Mobile Advertising Firms/Platforms
Vungle
AdsMobi
InMobi
Applovin
Altrooz
Glispa
RevMob
For Brands we can consider Vdopia, Videology, KARGO.
Best Mobile Advertising Platforms :
Brightroll
Yume
Adap.tv
Adconion
Adotube
Appnexus
SpotXchange
TubeMogul, etc.
Mobile Video Advertising types and their advantages
Mobile video is growing steadily in the recent years and the amount spent on video ads is also doubled. The reasons for this are the growth in smartphones, easy availability of broadband services, and so on. Here are a few types of mobile video ads that are getting popular and are effective.
Vertical Video Ads
Mobile users prefer watching videos in upright position and this is why vertical videos are becoming popular. Studies revealed that vertical ads outperform other horizontal ads. The chances of users watching the video ads increase when these are vertical ads.
360- Degree Video Ads
This type of mobile video advertising is growing steadily. The attention span of mobile users is very shot, but with 360 – degree video ads, customer engagement increases. The click-through rates of this type of ads are also higher. The format also attracts more likes, shares, and subscriptions than the standard format of video ads. This format proved to be more engaging, and in future, we are going to see more of this type of video ads.
In-Banner Video Ads
These are the most popular mobile ad format. These types of ads are unobtrusive and appear at the top or bottom of the screen. Detailed information cannot be provided in these ads due to little space. These are simple and safe to increase brand recognition.
Shoppable Video Ads
Video ads are powerful tools, and digital video spending is increasing year by year. The new format of mobile video ads is shoppable video ads that combine content and business. The audience can know about the product and also get information about how to buy the product. Shop Now buttons are included in the video ad and the process of purchase complete on the spot. It is the most efficient way to increase conversions.
Carousel Video Ads
Initially carousel ads showed only photos and a call to action button. Now a video can also be added to the ad along with headlines and links. In a single ad unit, call to action and other above things can be added. Carousel video ads can be used to show products that businesses sell on their apps, show details about the product.
InLine Mobile Video Ads
These are also called the banners and these appear inline with the video content. Inline ads are placed on either at the top or at the bottom of the video ads. These are used on both smartphones and tablets.
Out stream Video Ads
Out stream video ads are quick to offer video inventory. Studies proved that stream mobile video ads are highly effective. These types of video ads offer better viewability.
Mobile video ads help in lead generation and to improve customer's engagement. These ads also help to increase brand awareness. The click-through rate is higher on desktop ads. The viewers on social media share mobile video ads that are interesting and appealing. It helps the video to get more exposure. The ads that are around thirty seconds are watches till the end on mobile, unlike on desktop. The audio and visual elements in video ads help it to perform well and make them more effective.
Mobile Video Advertising Stats That Will Blow Your Mind
What is video advertising: It is online display advertisements that are served before, during and/or after a video stream. These internet advertisements are available as Mid Page Units (MPUs) with video embedded within them. In another version, video advertising is advertisements that occur on internet television.
The popularity of this channel is encouraging (rather forcing?) the marketers to feel that without video advertisement their content marketing mix are not complete. Another important aspect to this direction is the phenomenal growth that this industry has been able to show.
One more and easier way to assess the importance of video advertising is through the established route of statistics. As statistics are worldwide accepted procedure to establish any fact, following statistics are worth considering in this direction:
1) 65% of the world population prefer visual learning.
2) The mobile advertising industry experienced a worldwide growth of 65 percent in 2014 (that was from $19.3 Billion in 2013 to USD 31.9 Billion in the next year).
3) Twitter added another 5 million new users in Q1 of the current year.
4) Twitter recorded revenue of $2.21 Billion during the first 3 months of this year.
5) More viewers watch online: A rough estimate provides that around 92% of B2B prospects online video. More watching paves the way for more purchase decision.
6) Sharing is caring: Once the video is liked by the prospect, he/she is likely to forward and share the same among his/her circle there enabling wide coverage for the content through video advertising. On an average Twitter users share 700 videos every minute.
7) Video ads and sales are having direct relation. As the video advertising can convince the viewers they can go for a purchase decision. An average increase of 35% in the sale through this channel has accepted the world over.
8) Video ads & mobile phones: The astonishing growth of mobile phone usage can have a direct impact of video advertising. 88%of short pieces (around 30 seconds) are watched from the beginning to end on mobile and this is not possible on computers.
9) Mobile video accounted for 55% mobile data usage by the end of 2014 and mobile users watch the video at a greater clip.
10) An estimate provides that by the year 2017, mobile devices will make up to 87% of total sales of internet-enabled technology.
Based on the above statistics (the list though not exhaustive) it can be safely concluded that video advertising is another big thing in the very near future.
Mobile Video Advertising CPM and Market Statistics [Study]
One of the latest trends in content marketing is video advertising and that too on mobile. Mobiles, on the one hand, are available at affordable cost and, on the other hand, are offering advanced features. This dual advantage is naturally shifting the focus of the mobile users to use mobile for viewing advertisements.
A quick look at the statistics in this regard indicates that the video is on the rise with 35% of respondents (to a study from IAB) preferred viewing content through mobile. Though there were differences in usage pattern with the US (50% preferring video viewing), Canada (42%), New Zealand (42%), South Africa (42%), UK (40%), the common point is that the viewers are sticking to mobile viewing even for longer content as well.
There were statistics about viewers who regularly watch TV, 22% of viewers simultaneously stream video on their smartphones. This is further adding weight to video watching on mobiles. 2015 witnessed mobile video accounting for more than 50% of all digital video plays and the mobile video grows at 44% during Q2 of 2015.
Coming to demographics, 48% of millennial prefer video watching on mobile devices. Another 74% from the same segment followed brands on YouTube, and this amply shows the importance of digital video marketing can play – marketers may please note. There are so many apps available in the market, and they are enabling stability in video streaming, particularly on mobiles. Coming to video discovery, YouTube has been able to retain its supremacy (with lion's share of 62%) immediately followed by social media at just half the range (33%) and SEO (20%).
Coming to video CPM, (CPM is the amount paid by the advertisers to have their ads shown for 1000 times) given below are some interesting facts:
• According to Video Mogul, YouTube CPM stands at $7.60 (for a 30-second pre-roll video ad). AS the video ads might appear at 20% (about 2 in 10 views), after factoring You Tube's 45% will be counted, there are about 84 cents left for the creator.
• According to Variety.com, You Tube's CPM ranges from $18-$24.
• According to ReelSEO Hulu's detailed analysis, Hulu generated about $608 million from ad revenue from about 16.8 billion ad views. (This puts the CPM @ $27.61).
Though there are varying figures indicating CPM, the common point is that the CPM can be as low as 84 cents.
Key Trends in Mobile Video Advertising
Mobile advertising is the most popular and quickly growing advertising platform. The percentage of people watching video content is keeping on increasing and is expected to increase further in the future. The mobile platform is a huge marketplace and incorporating this into your advertising strategy means a lot of benefits for your business.
Businesses having websites and blogs should see that these are mobile-friendly, but the mobile marketing strategies should not end there. Smartphones are becoming the number one devices on which the users access the internet, and instead of making the content you already have to fit mobiles, you should create cross-platform content especially for mobiles.
Virtual Reality is the latest inexpensive technology that is going to drive the mobile advertisers to experiment. Mobile advertising supply platforms such as Facebook are going to attract more and more advertisers, and the CPM prices are likely to be stabilized.
The companies that are already investing in mobile marketing say around 25 percent of digital revenue is from mobile video ads, and this is likely to increase further in the coming days. Those who want to get into mobile advertising should learn from these successful brands and plan their mobile ad strategy.
Mobile video ads not only help in increasing brand awareness but also good for retail brands to increase sales. Deliver the crucial message in the first five seconds of the video, and it will reach the audience right in the beginning.
Mobile advertisements that use Beacon signals are found to be more effective. Native ads are also fascinating and can be beneficial on Facebook, Instagram, etc. Users will be able to recollect the brands easily with native advertising. Interactive ads are going to be used more and more in mobile advertising, and these help in engaging the users. Mobile chats are also going to be very popular, and these help the customers directly connect to the brands.
Conclusion
This article will define the role of mobile video advertising in the present and future era. This path will be in reaching a peak position without any fluctuations. The placing of a mobile video ad is the best thought to boom the brand at the audience.