The popularity of online courses spike as conventional face-to-face classroom-based learning loses ground to e-learning alternatives. Online courses enable the instructors to share their valuable knowledge that enhances the student's eLearning experience and making it easy to consume content. Students can carry and learn out assessments and assignments remotely on their own time. The demand for e-learning escalating, creating and self-publishing online courses can enhance their business.
Top Online Video Course Platforms:
The best online course platforms give you the freedom to spend more time while teaching and creating active engagement with the students and automating the sales processes. These are the Top online eLearning platforms such as Learnworlds, Thinkific, Teachable, Podia, Kajabi, Academy of Mine, etc.
Best platforms to create and host online courses:
Thinkific:
Number one overall online course platform (free or $49 month)
Thinkific platform has over 40,000 course-creators who can earn more than $200 million by selling their courses on Thinkific. This platform is not only for uploading pre-designed courses, but it can also be used to create the entire course curriculum.This platform is as simple as with their drag-and-drop builder.
You can easily use Thinkfic to upload videos, design quizzes, and structure your overall course content to make your online classroom engaging. Supports multimedia content, Drag and drop builder, design customizes course themes, comprehensive business tools to sell the online course, and secure platform are the best features of Thinkfic.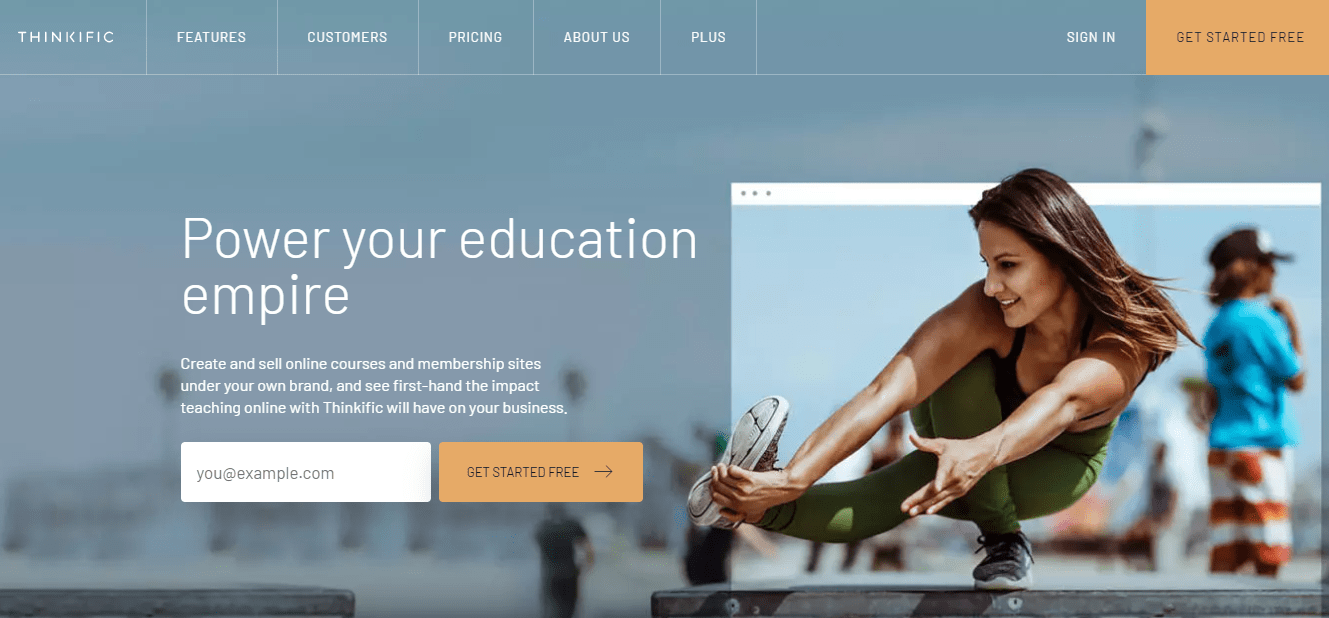 Learnworlds:
Create professional and most engaging online courses (free trial – $29 / month).
With the help of the LearnWorlds platform, you can easily share and sell their knowledge and also create, promote, and sell the online courses with ease from your convenient locations. It provides a user-friendly platform and most engaging, professional, social, and interactive school management platform that enables trainers to sell their learning experiences.
Most of the time, sellers are not required to have any professional development skills. They can create sales pages using predefined course templates. It offers different payment structures to the trainers, and they can sell their own courses at affordable prices.
Teachable:
The Best for Beginners ($39 / month).
The teachable platform allows anyone to create and sell their online course. It is as simple as that you can teach it to others if you are good at something. Teachable has over 83K instructors and more than 23 million students on this platform. Teachable has become more popular with its key features.
It offers drag and drop builder tool and supports multimedia content. The platform is integrated with Zendesk and Olark tools with built-in marketing tools. One of the best features is supporting multiple payment methods and powerful course page editors.
The Best Online Learning Marketplace Platforms:
Online learning platforms are best to connect teachers to students to educate from a remote place. Instead of hosting course files yourself, and you can sell course into a marketplace where students can pay for them directly.
Learning platforms to take your courses where you could sell your course online:
Skillshare:
Best platform for creating creative courses and teaching online ($10 /month)
killshare is a famous course building and an e-course selling platform that offers instructors to customize their online classes. It provides the best tools that help instructors create short course videos, and students can benefit from networking with a huge community of over 2 million teachers and students.
Skillshare offers intuitive, and user-friendly interfaces supported Android devices, web-based programs, and iOS devices. Skillshare platform is integrated with some other tools like Adobe, MailChimp, and Bigcartel.
Udemy:
The best tool for general knowledge trainers and learning:
Udemy is a huge library of online courses with topics ranging like finance, IT, development, business, office productivity, design, personal development, marketing, music, teaching, photography, and academics. Udemy app is available for iOS and Android users. It provides teachers with excellent tools required to teach the global audience.
Udemy platform is free to use to the students, but the tutors who provide courses have to give 50 percent of its earnings for every student Udemy finds. It offers good supports and assistance to the instructors in creating innovative online course content to reach millions of students. Everyone can build their brand and earn huge money in teaching something they are passionate about.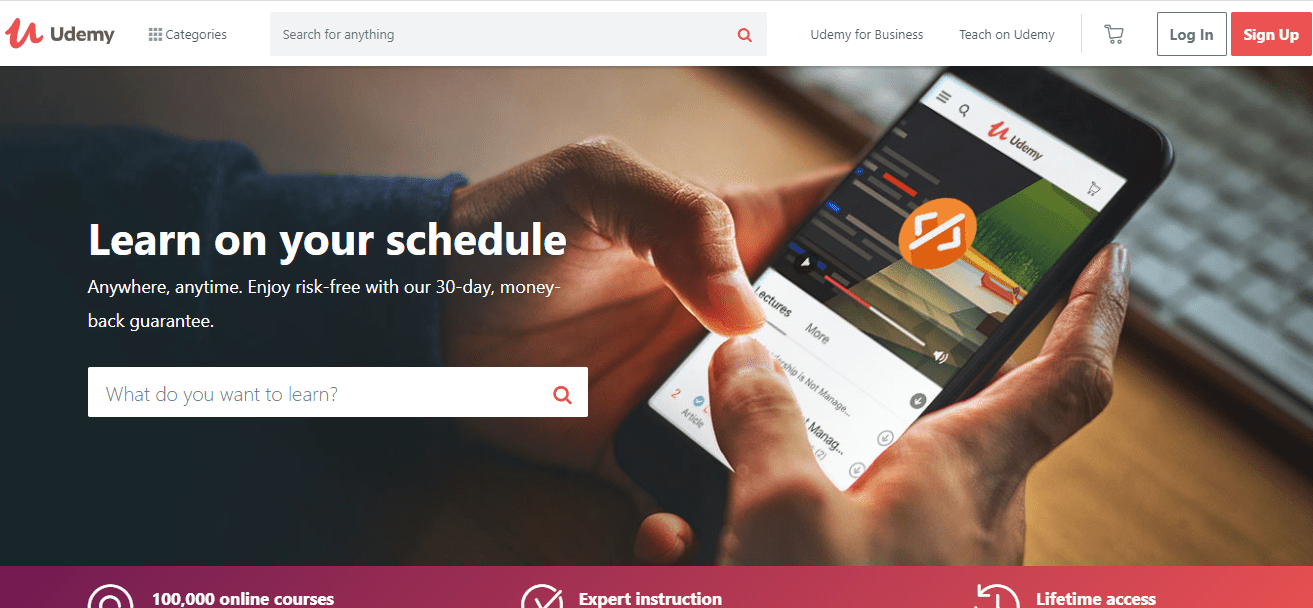 Coursera:
The best platform for Academic courses.
Coursera is a professional online course training and marketplace from virtual classes from the world's best universities and companies like the University of Duke, Michigan, and Stanford. Instructors can teach Coursera courses on the world's top universities include video lectures, community discussion forums, and peer-reviewed assignments.
Coursera offers valuable features to businesses and academic organizations. It extends the timeline for course completion, effective program utilization. Coursera plans eliminate the need to reimburse the individuality and offers centralized payment & budget management.
Code Academy:
Excellent tool for programming
Codeacademy platform is best for learning programming online and looks to make programming accessible to anyone. It offers a variety of interactive, web-based courses where users can write their few lines of code within a few seconds.
Code academy invites the users to receive one lesson for each one week and racked up with more than 100,000 signups within 48 hours. This is an excellent place to get started with programming. Just spend your time to see if it's something that interests you.
All-in-One Course Platforms:
Mainly most of the online course platforms offer course creation features and significant e-commerce capabilities. The concept of all-in-one online course platforms offers apart from course creation, selling tools. These platforms supposed for marketing and audience building.
Best tools to build your course, website, and marketing all from one platform:
Podia:
The basic platform for selling digital products ($49 / month)
Podia is one of the great e-learning platforms that help tutors easy to use create and host videos online to sell it on this platform. Podia offers live chat for instant messaging and helps you to easy student management. You can easily create online course content that is having in different formats like links, PDF, audio files, videos, images, etc.
Podia also enables you to customize the website pages, live previews, and to combine similar courses. Students can access any devices like smartphones, desktops, and more. Podia helps you to manage students with ease and remote access.
Kajabi:
A complete, high-end online course platform with the community ($119 / month)
A powerful online course creation and marketing platform that lets the instructors create and deliver the course content efficiently., It helps them with marketing tools and sells your online education. It lets you leverage it's innovative built-in marketing features to sell courses online.
You can have a custom branding that includes custom fonts, images, and colors. Each website in Kajabi can get automated domain ms it allows you to easy to host your videos on its platform. Member on dashboard enables us to quickly view the products by customer purchased. You can also check the payment login history of the consumers.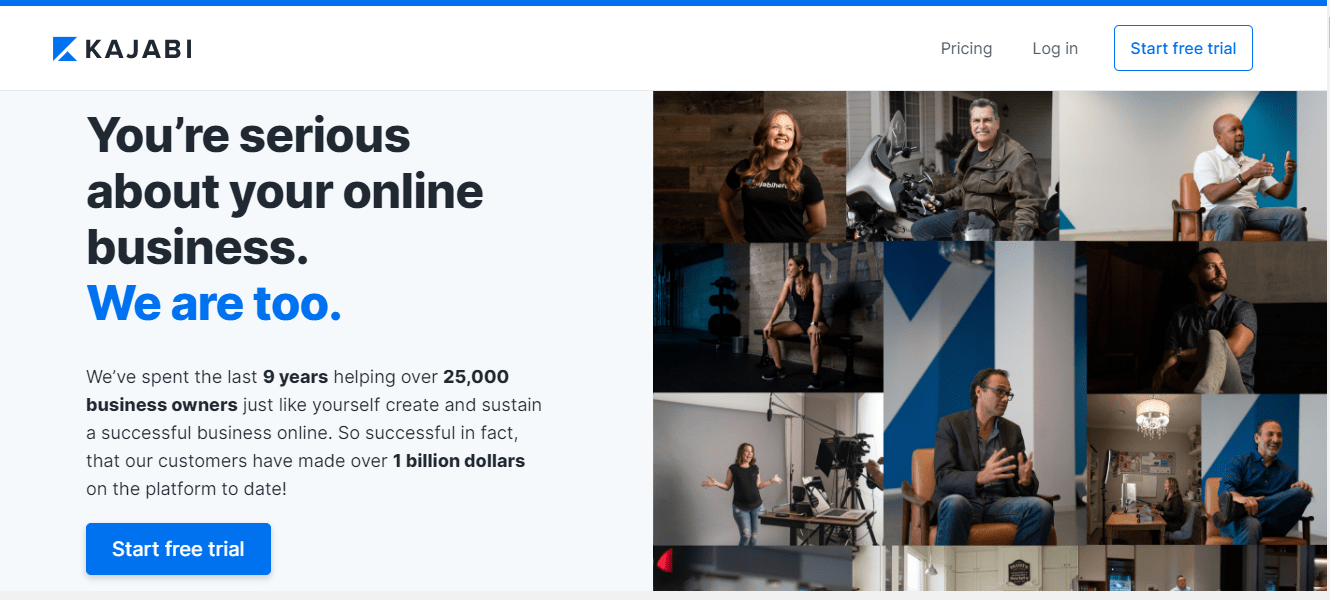 Academy of Mine:
High-end enterprise eLearning environment ($499 / month)
Academy of Mine is another good option for Instructors to create and sell their online courses. It lets you build a fully-fledged website to launch course content and start selling online. Academy of Mine offers powerful LMS features and inbuilt support for organizing the Discussion Forums, Certificates, Gradebook, Gamification and Discussion Forums, etc.
This easy-to-use portal enables the tutors to build their own websites with drag and drop templates. It allows you to sell courses with various pricing options and provides a three-tiered pricing structure.
WizIQ:
Best platform Course creation and marketing platform ( $25/month)
WizIQ asserts to the comprise of everything instructors need to train and teach online. It offers an easy-to-use learning platform for both instructors and institutions. WizIQ was awarded as the Top-Rated LMS and easily optimized your course content.
Instructors can easily upload their course content and enhance the speed in development. Creators can sign as a student to check other people's courses curriculum. The best platform for adjacent tools that can help you better market your online course. You can expect a lot of control over the course creation and sales process.
Top WordPress LMS Plugins:
WordPress LMS plugins are helpful for the school management and universities, along with some for-profit organizations that teach customers how to complete a task and gain knowledge on that particular topic. WordPress LMS plugin as opposed to a full suite and on other hand by lacking the right tools once you begin accepting enrolments.
Install and host your online courses on your own WordPress site:
LifterLMS:
Modern WordPress LMS Plugin ($299 / year)
LifterLMS is a great option for building, developing WordPress-based course websites, and delivering online courses. It provides easy to use course builder and handy e-commerce features that include the ability to process one-time payments and recurring payment methods.
LifterLMS provides the inbuilt membership capability if you want to build a traditional membership in your site that includes more than one course. It is possible only with LifterLMS.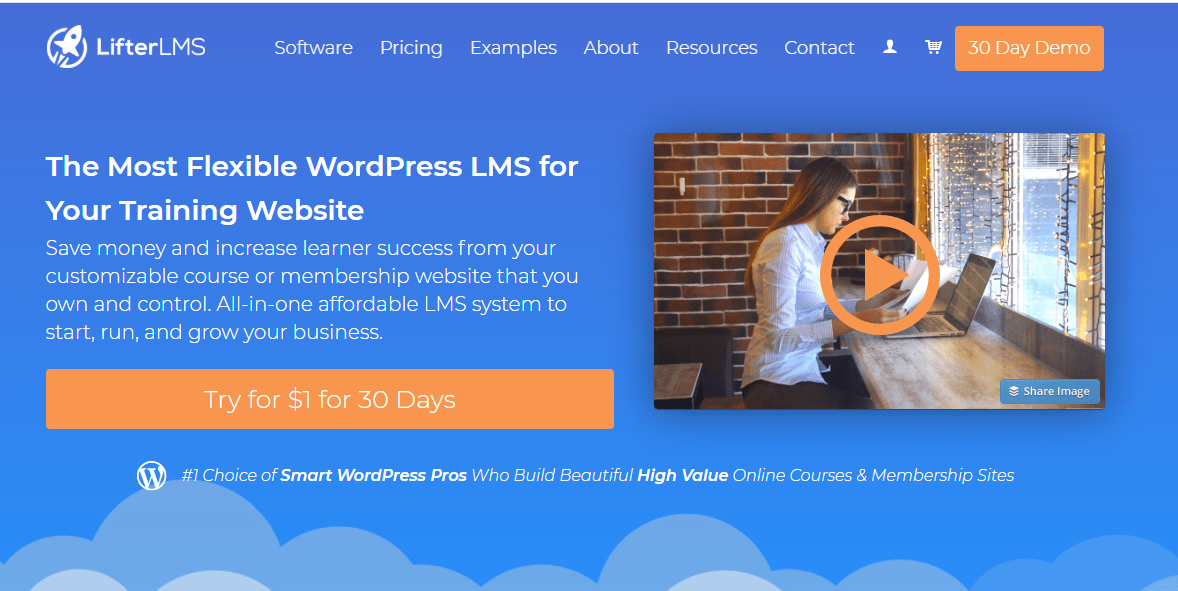 LearnDash:
Best overall WordPress LMS Plugin ($159)
LearnDash is used by Fortune 500 companies and major universities of its speed and impressive online course design. It provides options to create multi-tier courses that you break the courses into more advanced experiences. It offers tools to feed the content based on a schedule, and you can also add lesson timers to ensure that everyone spends.
LearnDash has automated email notifications, detailed reporting, and support various media types like audio, videos, images, Adobe Captivate files. You can market your courses with different monetization tools like memberships, a shopping cart, subscriptions, course bundles, and course licenses.
Masterstudy:
WordPress LMS Theme with Plugins included (starts at $69 )
The MasterStudy LMS plugin lets instructors create awesome course content with Slides, videos, images, and graphs what you think of it.The unique thing and good features of MasterStudy LMS are all the key elements are built with Vue.js, which gives smooth page transitions, and you fast page loads.
It offers hassle-free builder tools to customize and manage your online course WordPress site. Anyone can easily download this plugin for free and apt for any WordPress theme.
Conclusion:
To launch a successful online course program, all you need is a video hosting platform that includes custom domains, payment options, and supports popular video file formats. Choose the best platform among all the above 15+ platform for better results.