Are you piqued about using popular YouTube as a lucrative advertising platform? But are you wary about how to start YouTube advertising? Well then, you aren't alone in this dilemma. As per the recent survey conducted by Social Media Examiners, approximately of 11% marketers are known to run ad campaigns on YouTube, with the rest 65% in the quest of learning what it has got to offer. Here is the guide for YouTube Advertising 101 .
This is rooted in the fact which signifies how YouTube has turned into an effective medium that has a far reach among the audience.
Additionally, this Google-owned service giant is wholly centered on videos that have a wider reach globally (Estimated amount of time spent on watching video each day counts to thousands and millions with billions of users in over 88 countries.)
The platform is also extremely mobile-friendly, with more viewership garnered through mobile devices. This brings us to the next question as to how to leverage the potential of this active network and what are the points one should be aware of before beginning the advertisements on it?
Get Viewership Where Everyone Is Watching
One of the advanced YouTube advertising targeting techniques comprises understanding the pulse of the users. As YouTube Ads increase the potential for generating leads, it should also be able to convert them into sales. Hence you need to search for ads that interest users. Over the past two years, there has been a considerable rise in the small and medium-sized businesses advertising on the platform.
Reach to the Audience That Matters to You!
Foremost, it is not mandatory to get your ad viewed by everybody. Instead, offering it to people, who are likely to show interest, can get you the desired result(s). For example: From sports fan to fashionistas – they are all in the block, and targeting the niche crowd can deem helpful for you.
How to Start YouTube Advertising
Here are top tips on how to start YouTube advertising. Check out below:
Begin with uploading your video advertisement on the platform
Go on to create a fresh campaign on Google AdWords
Ensure to configure the created campaigns
Pick the niche segment you wish to target
Choose where you wish to showcase your Ads
Choose your marketing video
Further go on to configure the YouTube Adwords in the Video Ad.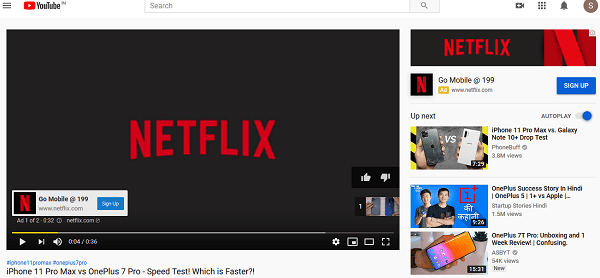 Advertising Formats for YouTube
YouTube Advertising format plays an integral role which can thereby increase the view ads and also your Ad reach. Primarily there happen to be three important types of video for individuals to invest on in YouTube. These are
TrueView Ads:
Which are used for creating standard video ad type.
Preroll Ads:
These are in-stream ads that are usually non-skippable. These can be played either before, mid-roll or after the completion of the video.
Bumpers:
At present, these are the prominent types of ads that are run on the platform:
Display Ads:
These are traditional web units that appear on the right side of the video.
Overlay Ads:
These are semi-transparent ads that are displayed on the lower portion covering 20% space of the video.
Skippable Video Ads:
These are video units that allow users to skip the ad after 5 seconds.
Non-Skippable Video Ads:
These are video units that cannot be skipped.
Bumper Ads:
These are non-skippable video ads which are run up to 6 seconds.
Sponsored Cards:
These include Text or display units that are run alongside the main video.
How Is the Measurement of YouTube Campaigns Carried Out?
Below listed are the YouTube ad campaigns metrics to track:
Clicks render data on the number of times the video was clicked. It will aid you to understand whether the ad is intriguing or not.
Click-through rate (CTR) defines the number of clicks received on the ad divided by the number of times the ad is displayed in the form of a percentage.
What Are the Advanced YouTube Advertising Targeting Techniques?
To garner more profits out of YouTube advertising follow the below scripts:
Select appropriate YouTube advertising formats
Categorize in-stream and discovery ads into different campaigns
Utilize advanced YouTube targeting method
Carry out a campaign for video remarketing
Create well-scripted video ads that convey stories
What Does a YouTube Ad Cost?
The average cost of YouTube ads per view ranges from $0.10 to $0.30 and the views generated will be determined based on average YouTube viewer count. As of Oct 24, 2018, the average cost for viewership for 1,00,000 people cited $20.000
Does YouTube Advertising Help?
It is an effective platform considering its outreach to the audience. Although creating video content requires more work, yet numerous reasons make it a favorite platform for marketers to showcase their content.
Targeting the appropriate audience is essential to bringing out the best output from the ads. Using YouTube you can target public based on demographics such as interest, age group, gender, parental status, etc. Additionally, YouTube also allows one to target ads on specific videos or channels.
Cost of a Thirty Seconds Commercial
In the case of local television stations, the average cost for a 30-second commercial will cost a minimum of $5 per 1,000 views. However, based on data offered by Adage, the national broadcast of 30-second ads amounted to $115,000 in 2019. And the average cost for 30-second super bowl ads amounted to $5.25 million.
Are YouTubers Paid If Users Skip Ads?
Viewers will be required to interact actively with the ad if you deem to earn money. For skippable ads that can be skipped after 5 seconds, the YouTuber will be paid if the viewer at least engages for 30 seconds or watches the whole ad. These also make the most common type of YouTube Ad.
What Is Counted as a View on YouTube Ads?
Views are counted when the viewer watches at least 30 seconds of your video ad (or if the duration is shorter than 30 seconds) or in the case, the viewer interacts with the ad, whichever is applied first.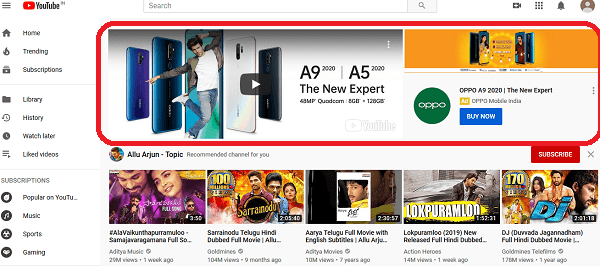 Is Rewatching of a YouTube Video Counted as a View?
Yes, rewatching of the video is counted as a view. YouTube considers a 30-second viewership of a video as a view. In the case the video is less than 30 seconds, then YouTube treats it as a count based on the complete video. And the number of times you view the video, that many are counted as the total count.
Is One Required to Pay for Displaying Ads on YouTube?
On average one can earn $1 per 1000 views. Additionally, advertisers pay if the ads are clicked on or if someone watches for 5 to 30 seconds. Furthermore, even if your ad garners a million views but fails to get the click, then no money is earned. YouTube advertising is managed and tracked in Google Adwords.
YouTube Advertising Stats 2022:
Each month 1.9 billion signed-in users watch YouTube.
50% of the American online users aged 75 and above use YouTube.
70% of mobile users use YouTube.
YouTube is the top 2nd most using website in the world.
YouTube is available in 80 different languages.
In 2018 it was the top iOS app.
51% of marketers run YouTube video ads.
62% of marketers stated that they are planning to increase the YouTube ad spend.
62% of mobile YouTube ad time receives the audience's attention.
9 out of 10 are considering the TrueView ads are better engaging ads.
33% of YouTube's large advertising brands use 6-second bumper ads.
70% of short-form ads on YouTube brings awareness.
90% of YouTube ads provide ad recall.
95% of YouTube ads are audible.
6 Innovative Approaches to Improve Your YouTube Advertising
You may come across with the names of top brands and stars on YouTube platform and their success. You may strike with doubt about how they achieved and why some advertisers are failed to reach the mark. So, here are some innovative ways to improve your YouTube advertising to get succeed.
Go with In-Search and Promoted Video Ads
The promoted video ads are affordable, and even small budgeted companies can go with comfortably on YouTube platform. These types of ads appear in the top position according to the relevant keywords. YouTube has included the complimentary banner ads on just above the area of videos. These type of ads can help you to reach the target audience and also gain excellent exposure too.
Run Contests and let the Audience Involved in your Ad
Run an exciting contest within your video and make a link to connect the audience with your site. This helps in better advertising and promotion of your brand.
Go with Good Story Telling and Try to make Short Video Ads
Don't go with a lengthy matter where the audience does not like to extend and waste their time watching ads. So, go with emotional content in the video which can go through the audience in an efficient way.
Use Different Types of Video Ads according to your Budget
YouTube offers different types of video ads for the advertisers, and you can use it innovatively. That means the content you are producing must be unique and impressive.
Advertise on Apps through Promotion of YouTube Videos
You can advertise your YouTube videos by sharing the video on various app platforms with a link. This helps to drive more traffic towards your video.
Advertise by Partnering with YouTube Stars
If you belong to the beauty or style-related brand, then it is the new trend to get partnered with YouTube star and include your product in their videos.
10 Do's And Don'ts Of YouTube Advertising
You hear everyone talking about how extraordinary an open door YouTube advertising is. This video-sharing website guarantees that more than 4 billion videos viewed every day. That is greater than Facebook's span and growing.
So you set up your in-stream promotions, and nothing happens. Your YouTube analytics demonstrate an insanely high number of "skips" – meaning that the people who saw your advertisement skipped it – and you' re not getting any positive results. You cut your campaigns and revile everybody who let you know that getting into YouTube advertising was a smart thought in any case.
However, here's the thing. It's not YouTube advertising that is the problem. There are quite of incredible activity and change, generating chances of finding on the popular video service. The problem is you and the missteps that you made. Here are some dos and don'ts for YouTube advertising.
Do's:

Do utilise the In-stream ads
Do use In-slate ads to target the audience
Use good AdWords in In-Search Ads
Go with best True view ad formats
Target audience via mobile ads
Try In-Display video ads
Target the demographics
Use A/B testing techniques
Build efficient strategy
Interact, follow and comment and as well as collaborate to expand your chances to succeed.
Don'ts:
Don't neglect in targeting the ad insertions
Don't delay the publishing
Don't skip the consistency in video Ad interactions
Don't neglect tags
Don't neglect thumbnails
Don't ignore channel designing and ad targeting basing on analytics
Don't go for long-form video ads
Don't follow black hat techniques
Don't neglect mobile targeting
Don't over promote targeting your product or service. Just keep them interested and attracted.
10 YouTube Advertising Tips that can Rock your ROI
YouTube is like a big ocean of video in which you cannot row down to the island of success if you didn't follow the right strategic plan and perfect implementation of the same planning in your YouTube video strategy.
The YouTube video advertising is the best way to connect with the huge audience base. there are several video ad formats with efficient targeting capabilities. These ads can be utilized to reach your targeted audience across the platforms.
Here are some important tips that can be helpful to your YouTube video advertising and can grab the best ROI.
1. Choose the right Video ad format which can be a perfect fit with your marketing objectives and advertising goals.
2. Couple with Google ad words to get a clear cut analytics and related metrics of your video ad performance.
3. Performance tracking is very important to know the effectiveness of your video advertising.
4. Go with definite video ad campaigns to target the audience demographics across the platform.
5. Be active and act smart while implementing your strategic plan in your ads.
6. The first five second is very important to reach your potential audience across the platform. Because audience will be busy and will not spend much time in watching ads. So your ad must capture their eye and attract them towards your content.
7. Place clickable annotations and links within the ads which can take the viewers to your concerned product landing page for websites. This can helps you to boost your ROI.
8. Try YouTube Shoppable video ads which are most effective comparing to other formats as they can provide a direct result and boost the sales conversions by directing the customers to the sales page.
9. Go with good quality output video
10. Leave the irrelevancy. If you make your ad with other attractive content instead of your relevant content, you may lose your audience trust and your ROI will go down. So avoid irrelevancy. Think Smart and Act smart.
Follow these above 10 tips to boost your Youtube advertising ROI.
Ways to Promote YouTube Videos With Effective YouTube Advertising
YouTube is on number position for video view that may be related to anything. Hundreds of videos are uploaded every minute on YouTube. Video advertising is growing day by day, promoting popular social media websites like Facebook, Twitter, and YouTube. Advertisers promote their videos on YouTube, so we should increase the growth of YouTube advertising. Here we have given how many ways to promote YouTube videos with effective YouTube advertising.
Using the standard banner ads with specified keywords along with colorful images attractive to the viewers
Videos can be targeted by the selected queries contextually by using the In video overlays
Hire a professional if necessary, if you are not consistent with your own work.
Play your ad before playing a video by using the in stream ad services
Try to attract the viewers for first five seconds of the video to increase the viewing time.
Target your audience with latest trends that are including within your videos.
While using the in stream video ad services, you must aware that the ad which was watched under 30 second still the end of video will only get paid
Use in slate video ads for better advertising
In slate video ads can help the viewers to watch the commercials and have an option of watching among the three ads.
The In search video ads are generally seen in the right hand side of the search results on YouTube platform.
In-search video ads are also very beneficial to target the AdWords and advertising
In-display videos can be displayed along the YouTube channels.
YouTube analytics tool helps the marketer to improve the advertising potential
The Data that is available on YouTube analytics platform helps the marketers or advertisers to know about their present strategy and the variations must be made and many other things. So, that there is a no chance of repeating the same mistake in second time.
Remarketing tactics are also one the way of video advertising on YouTube.
By embedding the links of your Youtube videos and paste and promote the links on to various platforms
Promote your videos by book marking them at various websites like #StumbleUpon.
Create product trailers
Create testimonial videos about your products
Incorporate the latest trending topics in your field and let them know about them along with your content.
20 Facts About YouTube Advertising
The no.1 site to do marketing is YouTube, and through this, anyone can be benefited by uploading videos. When it is using for marketing, then the marketers should concentrate on video advertisements for the video they upload. The following will give an idea of YouTube advertising.
Every month, more than one billion people visit YouTube and watch over six billion hours of YouTube videos. There are a lot of potential customers. And you can decide where and when a video ad shows up and which of these potential customers see them.
YouTube's unique combination of video access, sharing, and community creates an opportunity for audience engagement that is unmatched.
Sight, sound, and motion elicit an emotional and physical involvement with content among users that isn't available in other forms of media.
You can aid discovery and engagement with your video content (for example, shares, comments, and likes) by promoting your videos via YouTube advertising and hosting them in a curated home or profile page via YouTube channels.
Video creators can also learn an enormous amount about their video assets' viewership through a sophisticated set of measurement tools, including YouTube Analytics.
Audience demographics, levels of engagement, and performance compared to similar videos are just a few examples of the available data. Video creators can then use this data to drive larger and deeper viewership among a target audience.
Video ads help you connect with potential customers unique and memorable. You can be personal, share your expertise with the world, or put the camera on yourself and explain how your product or service can benefit you
You can show ads to the right people based on who they are, where they're located, and what they're interested in.
With AdWords for video, you pay when a viewer actively selects your video or chooses to continue watching a video when it first loads as they browse video content.
YouTube's free analytics tool helps you understand who's watching your ads and how people are interacting with them.
YouTube is localized in 73 countries and across 61 languages.
Advertisers don't have to have video inventory to advertise on YouTube.
YouTube supports a wide range of ad formats and targeting options.
Using YouTube for your business can be a cost-effective way to grow it, if used regularly as part of your marketing strategy.
100 hours of video are uploaded every 60 seconds to YouTube.
According to Nielsen, YouTube reaches more US adults aged 18-34 than any cable network.
By utilizing YouTube as part of your marketing strategy for your business, you're also increasing the authority of your website.
R-purposontent you have already created is an effective form of content marketing, as you can reach an audience that will love that particular type of content.
10 YouTube Advertising Mistakes That Will Limit Your Ad Effectiveness
Online consumption of video is increasing and businesses are using this to effectively advertise their products. Advertising on video-sharing platforms such as YouTube is very effective in increasing sales. However, some mistakes may limit the effectiveness.
Brands and businesses are utilizing the power of YouTube advertising properly because of many reasons which should be avoided.
There are different types of YouTube ads, among which in-stream ads are very effective. These skippable ads are neglected by the brands which should avoid.
Another mistake that can affect the performance of a sales ad is the quality of it. The lower the quality, the less audience will trust it.
Not having the right call to action is another mistake that brands commit. Try getting a viewer to take action in the first thirty seconds of the video ad.
Not having a great story in the ad is another mistake that can affect the engagement of people with the ad.
It is not enough to target the right audience, but it is equally important to deliver the right message to earn the attention of the viewer.
Easily giving up not waiting patiently for positive results should be avoided.
Not choosing the right metrics such as view rate, lost impression share, etc., in a dashboard of YouTube should be avoided.
Focusing more the making the videos viral should avoid.
Not using proper thumbnails for the videos should be avoided. Thumbnails should be able to attract and make the audience click the play button.
If used perfectly, YouTube advertising can help in the growth of the business. However, concentrate on avoiding small mistakes that can lower the effectiveness. YouTube advertising is a great opportunity for more than four billion videos are watched on this platform every day, which gives a chance to reach a wider audience.
Understanding YouTube Advertising Return on Ad Spend (ROAS)
ROAS, Return on Advertising Spend is a metric that measures how effective the digital marketing campaign is. It helps businesses to know what is working and how they can make their advertising more efficient.
YouTube Return on Ad Spend is an important metric to evaluate the performance of YouTube ad campaigns and how effective the ad is for the business.
By carefully following the Advertising Return on Spend, the online companies can take decisions on where to invest the money on advertising and how efficient they can make their marketing campaign.
Return on Advertising Spending is a key performance indicator. It can calculate for YouTube ad campaigns. It is calculated as revenue from the advertisement and the cost of it.
Using ROAS helps in prioritizing what volume is needed to be profitable. Businesses want to have higher ROAS to make big money.
There are free and paid services online that help to track the return on ad spend. ROAS also helps in tracking the conversion rates. Taking the help of these services helps the businesses to set goals.
Businesses, however, should not rely solely on YouTube ROAS to determine the effectiveness of their campaign. The goals of a YouTube ad campaign are the base to check the ROAS value.
Even when the marketing campaign is successful, the company may lose money as the cost of advertising, production costs, and shipping costs may be more.
Return on Ad spend is a critical metric, and if it is used correctly, it helps the businesses to determine whether their YouTube ad campaigns are helping them to make profits or not. Should companies use ROI or ROAS? Both the metrics can be used to optimize the drives, and both of them can use together.
YouTube Advertising : Digital Video Advertising Statistics and Trends
YouTube video marketers are looking ahead to the New Year determine the marketing campaign. Many marketers think whether to continue with the course they charted this year or make changes it. Here are few digital marketing trends to consider for YouTube for the coming year with best us of YouTube Advertising 2022.
YouTube Advertising 2022
Non-ad-based monetization opportunities
Monetization issues are not uncommon for YouTube. YouTube is exploring new ways in which the video creators can get revenue for their videos without depending on advertising.
It is likely that YouTube is going to expand non-ad-based monetization options for nonlive streams.
YouTube says they are concentrating on the monetization issues of the creators and they will continue to improve upon it.
It advised that creators must understand what their community wants and what changes they can make.
YouTube also added that they are trying to be as transparent as possible with the creators when it comes to demonetization issues.
More YouTube Ad Policies Introduced
As per the new changes made by YouTube to its ad policies, channels that have more than ten thousand views only are eligible for advertising.
Other types of content that are not eligible for promotion are the hateful content, incendiary and demeaning content and others.
There were reports that brand ads were showing up on violent and extremist content and many advertisers pulled out of YouTube.
YouTube promised to review and beef up policies for content and rolled out updated guidelines to regain the confidence of advertisers.
YouTube also launched Creator Academy Course using which the creators can understand how to make content that appeals to advertisers.
Raise of Super Chat Monetization for Creators
Super Chat is a feature for creators who can enable it to monetize the live streams.
When this feature enabled by the creator $ icon appears in the message area.
Viewers can select it to make purchases, and the message of these viewers stands out in a chat session.
This feature helps the creators to connect with their fans as well as earn revenue from live streams.
Income can track from Google AdSense dashboard. AdSense dashboard is the newest monetization option for YouTubers.
360 Degree YouTube Video Ads
360-degree video ads on YouTube have launched for both Chrome and YouTube mobile app on Android and iOS.
360-degree video ads are the new ad format and are compatible with Cardboard VR headset of Google.
360-degree video Ad gives the rich experience to the viewers and entirely engages them.
Advertisers will be happy as they can interact with consumers and sustain their attention more with this ad format.
A Google support camera is required to be used to advertise on 360-degree video.
This form is going to be adopted more by the advertisers in the coming months as this provides many benefits.
According to statistics, 360 degree video ads watched 28 percent higher than other formats.
Ninety percent users feel that 360-degree video ads are helpful for them to make purchase decisions as they can feel they are looking at the product in persons.
Implementation of More Advanced AI, Machine Learning, and Big Data Fraud detection Algorithms
Unskippable Ads Eliminated:
Unskippable ad format is said to be the most annoyed ad format for the users. In 2020, these videos will go. The 30 sec ads are going to eliminate, but the 20 and 16 sec unskippable videos will promoted. Unskippable Ads is to provide better ad experience for users.
Geo-Targeted Localized Ads:
Geo-targeted localized ads help people to find where you do business. It helps to see the location wise business and targeting a specific area of business. Mobile devices mainly focus on location-based Ads.
Supervised Learning:
Supervised learning comes where the lots of historical data comes when predicting the future events. These supervised learning , methods come under the advanced AI and popular machine learning algorithms.
What We Learned From Spending $5000 On YouTube Advertising
When we think about video then the immediately striking word is YouTube at which the online video parade has been organized. By considering that most of the companies are completely rely on YouTube to make the promotion of their products or services through the bombardment of video advertising especially on YouTube Advertising.
On behalf of that, they are spending dollars to seize all the available corners to do advertising. Then what could be experienced after doing all this?
Close Monitoring of Ads and dedicated resources will reduce CPV
The frequent analysis on the performance of video ad will project the image to make close monitoring of ads. For the completion of a specific task through the ad by using the committed resources will obviously minimize the cost per view to be paid for the YouTube.
Target your Audience at Rightime
The evaluation of estimating the audience online arrival time to surf the online streams will be done. This will make the advertiser focus on the targeted audience by pushing the relevant content at right time.
When the video ad strikes at the perfect audience then the brand exposed in that ad will get huge murmurings as a demanded one in the market.
ReTarget your Ads on the Right Competition Videos
Find the videos on your YouTube channel that are going viral or long living in the category of YouTube search then retarget your ads on those racing videos.
The icon of your brand will be visited by the vast number of viewers. This automatically clutches unexpected audience.
First 10 Seconds of the Ad is very important
This is the most precious thing that every video advertiser should know that the first 10 seconds of the Ad is a life of the long living brand of one's products or services.
Most of the audience will be impacted at this moment whether to watch fully or not. The first sight of the ad will be the butterfly to bring the concentration of the audience that leads to becoming customers.
Experiment with Different Types of Ads at Different Timings
You might have an idea of the audience preferences but the same style of ad content will make them boring. Hence, the mission of injecting various ads at different timings will show impress the regular and new audience as well.
This might give a new experience of creating inventions as the best advantage to gain more customers.
Use In-Stream Ads for Instant Branding
The in-stream ad is the only bug that buzzes at each individual which doesn't allow them to skip until the completion of the ad. These ads will cost a little bit more than other streams. These ads will immediately explore your brand at the doorstep of the audience.
Use Video Discovery Ads for Longterm Branding
The video discovery comes under the true view video ad format. In this, the thumbnail of your video ad will play major role which has been placed in the search results of YouTube.
While the user interested in watching that ad by clicking thumbnail then that view will be counted. This helps to strongly build the long-lasting brand in the market.
Language, Device & Mobile Bidding is Important
Most of the ads on YouTube will be displayed after making auctions though bid. When you choose to promote your brand through bidding on YouTube, then you should consider the language, device, and mobile as they play a vital role in the promotion of brands.
The ad words will display the devices with a specific operating system when the ad is delivered, and the rise or fall of a bid can be done based on that.
Optimize Your Video Thumbnails for YouTube Ads
A successful ad on YouTube depends on the thumbnail of the video and the thumbnail should eye-catch the audience at the first arrival. This obviously drains more traffic for the ad you generate on YouTube.
The Guide to YouTube Advertising for Big Brands
Is there anything that changed the entire marketing strategy in this new era? Yes, then what it's going to be? Exactly what you think is YouTube.
As everyone is spending most of the times by being at the home of YouTube the marketers are using this strong point as a bridge to enlarge their business especially to make YouTube advertising about their products or services.
Are you excited to know how? Here is the information to break that suspense and helps in exploring your brand.
Creating and managing Branded YouTube Channel:
First of all, you should have the best equipment to capture the highly qualified videos and try to establish the strong team to do everything in a successful manner.
Take suggestions from the experts in a related field who had already been in the top position by running YouTube advertising.
Then you should analyze the customer interests and depend on that dispatch the video content that helps in building the brand of the YouTube channel.
Fill Basic Details about the Brand in About Section:
In the about section of your YouTube, close your brand for the question words like what, how, where, and why. Then the audience might know clearly about your brand while visiting your YouTube channel.
More Visual Thumbnails for Videos with respect to your Brand:
When you are decided to advertise on YouTube through the medium of video then choose the ultimate thumbnails that catch the attention of an audience.
Note that it must be completely relevant to your brand.
Pitch to your Customers using Videos:
The intimation through video gives 1000 times better results than audio and most of the customers prefer to buy through the assumptions of that video. So try to be in the field of customers.
But where we can find them? The bulk of audience will be available on the platform of social media sites like Facebook, Instagram, Pinterest and Twitter. So make use of them to explore your brand.
Check Analytics and see what is working:
To get the fine idea of making a better video just check the analytics. Through this analysis, you can find which type of videos are moving higher and dropping.
Plan your Branded Video Content using your Analytics:
After analyzing the analytics of videos that are in the audience preferred list just concentrate on creating such type of video content but it should be unique and must blast your brand.
Subscribers are key to Success:
Before everything you plan to implement on YouTube channel must sculpture subscribers in your mind. Because whatever you are going to do in exploring the brand will be greatly impacted by the subscribers.
When any visitor visits your site they definitely have a look at subscribers and make predictions about your performance.
Advertise using Customer Retargeting data:
When the customer visits your channel through the activity of call to action or visiting your land page then collect the data and generate the cookies that clutch your add directly to the user's page.
Target Customers using:
Devices:
Choose the format of ads that fits every device. But nowadays everyone is being on use of mobile as it is user-friendly. If you are attested to build your brand name at a vast number of customers then the mobile is best where you can find plenty of users.
Demographics:
Estimate the statistics of the people you have and target the specific number of audience to reach your channel.
Interests:
Target the customers based on their interest and this can be achieved only through keeping observation on competitors.
Behaviors:
You can reach your customers depend on the comparison of your performance at the beginning and now.
Locations:
Approach your clients by picking the specific locations where you feel much easy to spread your brand name.
Use YouTube Cards as Call to Action:
By using YouTube cards the audience can find the URL of the other video that you have added in the currently playing video and attach the call to action option where the users can easily find the more information about the services or products.
Direct Users to your Landing Page with proper Call to Action:
The option of a call to action must be specified in a good format that must direct the users to your landing page.
Note that this must not be a bug of eating the precious time of users to get your land page.
Re-target Users by Collecting Landing Page Users:
Release the ads by targeting the already visited visitors of your landing page. That means should create the video ads with the assumption of visited users.
What is Brand Safety YouTube Advertising?
Brand Safety in digital marketing is to ensure that the ad does not appear in a place where the brand image is not damaged. Online advertisers pay millions of dollars for but do not want their ads to appear next to inappropriate and offensive content. This can affect the reputation and sales of the brand.
On platforms like YouTube, advertisers have very little control over where their ads appear. With analytical capabilities improved, it is now the duty of ad network providers to give priority to brand safety for the advertisers.
The things that fall under brand safety umbrella are the comments posted on social media advertising, social sites of the brand and the content that appears next to digital ads of the brand.
Importance of Brand Safety Online
The consumers talk about a company, or a brand decides what the brand is. It is a challenge to secure the brand, especially when information travels very fast on social media. Regarding programmatic advertising, it is essential to ensure that the ad does not appear next to content that could damage the reputation.
The ad should appear appealing to the consumers across all formats. The viewers should feel that it is safe to deal with the brand, which is professional. This will not give control over the brand safety but will help to control what people say about the brand.
The reputation of a brand and consumer perception can change in a second on the internet and social media. A marketing campaign can negatively influence people across all the countries.
Avoiding implementing measures to ensure brand safety can increase the risk of the business being ruined. Internet Advertising Bureau listed content next to which the ad placement should avoid. The content categories include military conflict, death, obscenity, piracy, illegal drugs, hate speech, terrorism, arms, crime tobacco and others.
YouTube and Brand Safety Crisis
Big advertisers on YouTube realized how little control they have over their digital marketing. Brand safety is not just the ads showing up on YouTube next to improper content.
When brands realized that their ads are being shown next to hate speech and violent content, they started pulling out their ads and diverting their spend away to other platforms. It is difficult to get back the trust of brands, but YouTube promised to fix the problems.
YouTube revamped the policies after the brand safety issue. Now the channels will require ten thousand viewers to make money from ads. Each video is being viewed on YouTube for Google preferred channels.
YouTube channels will need one thousand subscribers and four thousand hours of watch time in one year time to be able to run ads. Both the new and existing channels should meet the requirements. These guidelines are going to affect the majority of channels. YouTube also introduced a three-tiered system to have transparency over where the ads are appearing.
How to improve brand safety in YouTube Advertising?
Establishing brand safety in YouTube advertising is essential. There have been many issues over brand safety advertising on YouTube. Implementing the right strategies safeguards the brands on YouTube. Some key components should be considered to ensure brand safety.
Preventing measures such as constructing negative keywords list, etc. helps to combat brand safety issues with YouTube. An online YouTube ad can be protected from being associated with the content that has terrible keywords in the title, description, or metadata. Make sure that the list is updated continuously.
Violence, terrorism, and sexual content are the topics that should be placed in exclusion to make sure that the ads do not run on any videos related to these topics. Other issues that brands want to exclude are religion, news, and politics which at times can host inappropriate content.
Unsavory channels also should be excluded. Update the blacklist list continuously for maximum effect. This is because millions of hours of content are uploaded to the most significant platform on YouTube every day. Identify the placements that are safe to show the ad. AI can help with this. Other advanced tools also might be used to find reliable channels to run advertising campaigns.
Artificial Intelligence and Brand Safety on YouTube
After the brand safety crisis, YouTube introduced new measures for brand safety. According to the world's second-largest platform, artificial intelligence system is more effective at removing content that violates the rules of YouTube.
Many numbers of extremist videos were removed from YouTube after it started testing the tools powered by artificial intelligence. Machine learning improves the accuracy of the YouTube systems, it is said.
Here is how the online advertising industry can use AI for solving the ad fraud issues. Brand agencies and publishers must find the right partners when they are investing in brand safety. Picking up the rig tools and testing them is also essential.
The artificial intelligence products are tailored to the needs of clients so that they work more effectively. Make sure to choose a popular programmatic platform. Try choosing premium inventory only. This ensures that the ads do not end up with unsafe content. Track where the ads are showing using real-time data.
Building brand safety is a must when advertising on online platforms such as YouTube. There is a lot of tools for publishers and markets to deal with brand safety problems. Tackling the issue will benefit everyone who is dealing with digital advertising online.
YouTube is a great platform for advertising. So if you have not yet played your cards here, then this is the time to go on and do it right away!
Conclusion
These are evergreen strategies that build up your brand while doing YouTube advertising and this will dump the competitor's high-tech tactics. If you didn't yet start implementing it, then it might be a chance for competitors to do early than you.
These are the most required and genuine key points that every video advertiser should know before launching the ad rocket on YouTube. This article might reveal all these phrases when we have real-time experience.
YouTube advertising is very valuable to any digital marketing strategies.Here is the guide for the Future of YouTube Advertising trends and statistics.
If the people who are doing business through YouTube must have clear knowledge about YouTube advertising and this will keep engaging their channel if they have unique content.
This above is an excellent guide to how many ways to promote YouTube videos with effective YouTube advertising. Entrepreneurs and advertisers get ready to use this information for their business growth.
In the above article, we have listed some Do what you should follow for YouTube video advertising and Don'ts for what not to use for the YouTube video adverting.