Facebook announced its new platform for shows on Facebook Platform, and it is called 'Facebook Watch.' It is now easy for the users to discover videos outside their feed quickly, and they can also get a subscriber to content from other providers. It was limited to the only limited audience in the first phase. It will be available to the people in the US, and the social media giant is going to introduce the experience to more and more users in the coming days.
Video has proved to connect with people powerfully. More and more Facebook users are watching videos discovering them through their friends. Videos appear in newsfeeds of people and in addition to this, Facebook introduced a dedicated place to help them view videos.
Watch is the new platform for shows on Facebook. Facebook Watch can be accessed on mobiles, desktop, and laptops and also on TV apps on Facebook.There is a different kind of content available on Watch, and it can be episodes, prerecorded content or live content.
There is a Watchlist which helps to keep up with the shows that the user follows. The notification of the latest episodes can see here. The content is made up of original shows, company or other media partnership sponsored.
Facebook Watch for Shows
Watch is a video platform that allows the creators and publishers to find an audience and build a community of fans. They can also earn money for their creations. Shows that can engage the fans can be successful on Watch.
This is also the right platform to connect with the fans with live shows. The followers can get answers to their queries in real-time. This helps a lot for the creators and publishers to connect with the fans.
There are varieties of shows that can be made available at Facebook Watch. How-to videos, instructions, videos, etc. are always successful. Shows with a consistent theme will have dedicated followers. Live events, especially sports can be successful on this platform.
Where to find Facebook Watch?
To find the Facebook Watch Tab, log into the account if you have one.
In the left side of the screen under the name, there are 'Newsfeed' and 'Messenger' buttons.
US residents can see the 'Watch' button also there.
Watch in the US
Facebook Watch is now officially available for US users. Initially, it was rolled out to limited people.
The users can use subscriber currently to their favorite shows instead of searching for them in their Newsfeeds. Presently the highlight is in reality shows.
It said that the platform is working hard to attract the audience who got used to watching shows and events on YouTube, Netflix or cable TV.
The social media giant is planning to create high-quality original content of dramas or comedies.
Can Facebook compete with other Streaming Services?
There are some outstanding streaming services such as Netflix, Amazon, and Hulu. Revenue for these services comes in the form of the subscription fee.
Facebook is going to fund the original video content, which will be documentary series, reality shows, or scripted programs. Facebook is trying to get benefit from advertising dollars.
The content financed by Facebook will host on the Watch feature introduced by the social network site. The tab appears below the Messenger tab.
Facebook is concentrating on organizing the content that is already popular with the users but in the episodic form. The Watch platform also welcomes submissions from the user base.
Facebook has an active user base which consists of billions of active users. The users can create shows following the guidelines of the community. It can be an excellent alternative for YouTube creators for hosting the shows.
Shows on Facebook Watch
Facebook is rolling content from amateur creators as well as presentations from established publications on its Watch platform. The button can found under the Messages button in the Facebook home page and the mobile app, it appears at the bottom as a TV shaped button.
The users can see the original shows, video series also there. The episodes on Watch run for around ten minutes or more. Shows on Facebook Watch can be watched regularly as the episodes rolled out.
They can watch live or on-demand. To browse for the new series, go to the discover section in the Facebook Watch or go to Shows section in the Facebook Video app.
Like the show and it added to the watchlist of the user. When a new episode uploaded, the user will notify. Based on the viewing habits of the user, the Facebook algorithm will surf for other shows.
What to Watch on Facebook Watch
"Ball in the Family" is a reality show that can watch on Facebook Watch. Another show to watch is a show based on 'Brandon Stanton's' photo series "Humans of New York."
The lives of residents of America's largest city shown. There will be video interviews that tell a wide range of stories. Another show available to Watch is "Returning the Favor," and this is a feel-good show.
Facebook also launched scripted shows on Watch platform. Some of the shows might have already been on Facebook and with broad appeal. The second season of "Loosely Exactly Nicole," the first season series of which aired on MTV series is now broadcasting on Facebook.
Facebook is also planning to get the digital rights to live sports shows. Weekly Friday Night Major League Baseball Games is now available on Watch which covers baseball, surfing, soccer and other games.
Facebook Watch Video Platform for Original Shows
Are you a Facebook user?
Then I had the gossip about the Facebook advanced features.
Have you excited to know that?
It has come up with the icon 'Watch' video platform to give much entertainment for the regular users.
Facebook Watch Video Platform
The head of social media platforms Facebook has taken a step ahead to launch the video services through 'watch'.
Through this, the live streaming and captured videos of shows, events and episodes can be watched.
The Facebook users are allowed to follow the favored videos and the personalization of feeds can be done by the users.
It's making measures to feed the desktop users and bounded mobile app users in the US initially before it's going to hit globally.
The enabled users can view the TV icon at the bottom of the user's Facebook profile.
Features
In this MLB game will also be broadcasted on Facebook and the shows from top streaming providers like NASA, National Geographic, NBA and Time Inc are available Facebook 'watch' video platform.
The icon 'watch' is framed with varied categories like most viewed, friends watching videos and more than 10 minutes videos etc.
'Discover and Watchlist' will be observed at the 'watch' to find suggested videos and to view later on Facebook.
The most exciting and unique advantage of using 'watch' is the videos which have been watched by our friends will recommend to us.
Conclusion
Most of the creators and publishers are much excited to take participation to touch the new audience. This creates enthusiasm in the Facebook users to have the experience of the new world.
Facebook Watch Ads: The Next Big Thing
It is the time for creators to explore the monetization strategies on Facebook as it is launching the pre-roll video ads in the 'Watch' of the Facebook. Here the Facebook Watch Ads will be played before displaying original video content.
These pre-roll video ads will not appear when scrolling down to view the updates of friends. It appears to play when we are intentionally watching videos.
The research on the interests of various audiences and shows they are going to serve the 6 seconds video ad.
The selling of those ads will take place similar to the Facebook Audience Network and Instagram when they are initially launched. Through 'Watch' the audiences can find the best and unique video content of shows.
Facilities offered to the advertisers
It facilitates the advertisers to launch the long form video content by directly reaching the audiences through in-stream ads.
On both the Audience Network and Facebook the advertisers are allowed to deliver the video advertisements as the in-stream video content on the original video content.
More than 70% of in-stream video ads of a full length of 15 seconds video ads can be watched by adding the feature 'sounds on' on both the Audience Network and Facebook.
Through the involvement of Facebook's mobile optimization relatives, the attention of the Facebook audiences can be captured that helps to watch the 15 seconds or fewer video ads completely.
The targeted in-stream video ads are delivered to the targeted people at the right time through the people based marketing strategy of Facebook. It surely achieves the 89% target rate.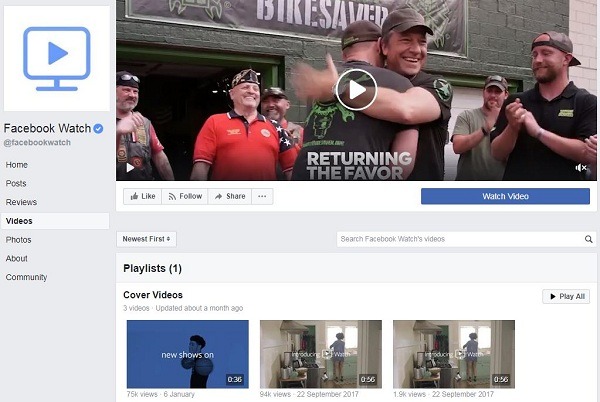 Unbeatable success through Facebook Watch Ads
The in-stream platform will boost up the publishers and creators to reach their Facebook audiences directly by pushing the long form video content through continuous engagement.
With the selection of a specific group of publishers and creators, the advertisers can get in touch with the audiences within the uploaded video content through in-stream video ads.
The mobile, Facebook TV apps and desktop users can access the "watch tab" to watch various shows with unique content.
It can boost the ad revenue of the publishers and creators that simulates the audiences to return to watch the video content frequently in the newsfeed that available nowhere.
The personalized video recommendations like "Shows your friends are watching, Most talked, What is making people laugh" and to watch the recorded and live shows will be featured on the 'watch.'
The publishers or advertisers can share their video ads in the news feed that makes people recognize.
The Facebook audience can subscribe to get the updates of favorite shows through Watchlist.
Through this, the shows can be displayed at groups by connecting the fans with others and with creators. It improves the ad revenue.
Conclusion
Facebook Watch Ads is most beneficial for both the advertisers and audiences that one can expand the business brand by reaching the real-time audiences and in the same way the audiences can enjoy the unique and original content that's not available anywhere.
Facebook Watch Shows: The Ultimate Guide
Watch, a new platform for a show on Facebook. Shows, Episodes are made up of live or recorded and follow a theme or storyline. To help you keep up with the shows you follow, Watch has a Watchlist. So that you never miss out on the current episodes.
The customization of Watch helps you discover new shows. Mostly these are organized around what your friends and communities are watching. The people's comments and reactions to a video are often as much a part of the experience. Those videos are to be learned by Facebook. While watching the show, you can see comments and connect with friends and other viewers.
Tastemade
The kids usually watch this show. Whereas they search for how to recipe video and how to make the dish. It includes comedic results by instructing a pro chef.
Major League Baseball
The Major League Baseball will Stream one game in a week live on Facebook.
Nasa
NASA is related to science. It explains a single science topic in an understanding way in each 4-5 minute episode.
Mike Rowe
The people who've done great things for their community. It is to be found by the Rowe and gives them a unique experience in return.
Nas Daily
Nas creates daily video content. Vlogger Nas makes videos with his most significant friends to watch. He will make different regular videos for the watch with his fans.
Gabby Bernstein
Gabby Bernstein is a motivational speaker, and life coach. She will use recorded segment and live episodes. Also, connects with friends and answer their questions.
MLS and Univision Deportes
It will look for live MLS games in partnership with Univision.
McClatchy's
Titletown TX—Fans of Friday Night Lights will enjoy this show. It shows the journey toward a sixth state high school football title in eight years. It was done Aledo Bearcats in the year 2016.
Hearst
Daily Refresh— The viewers can watch the trending moments, stories and news.
Untangled—Untangled is a science show. That "celebrates the unquestionable satisfaction of watching visual organization in a world of hue." It's for fans of symmetry, patterns and a sense of order in the world.
IGN
IGN Expert Mode—Part interview, this show will feature gaming visionaries playing fan favorite video games. Also providing commentary and insights.
Every…Ever—Here's a deep dive into some of gaming's most iconic games, characters, and franchises. Each episode will feature expert analysis, comprehensive timelines and surprise narrations.
Next Big Game— As they prepare for launch, this show will provide an inside look at the studios and artists. They are working on the most significant games in the world. Fans will see exclusive gameplay reveals and development secrets.
IGN Brick Battles —is a series of stop motion animation. That brings both the Video game franchises and Worls of TV in one place.
Best. Game. Ever.— All-time favorite video games give their opinions towards Entertainers, athletes, comedians, and creators. This show will celebrate the best games ever and will help show fans that their interest in video games is common.
Cosplay Makeover—Cosplay Makeover experience will watch as a passionate fan. Then gets surprised with a once-in-a-lifetime. With professional makeup artists, designers and costumes, the show documents the transformation. Especailly, from home grown superfan into the ultimate character.
ATTN
Health Hacks—Health Hacks will focus on healthy living issues from diets to drinking habits.
We Need To Talk—Hosted by Catfish creator Nev Schulman and his wife Laura Perlongo, We Need To Talk is a relationship advice show for the digital world.
The Atlantic
Animalism—Ed Yong, a science writer for The Atlantic, Animal kingdom will be explained discoveries by this.
The present issues of bright infographics and information are to be expected by viewers.
Business Inside an insider
Cool—Insider will investigate new viral inventions that have taken the internet by storm. From unspillable wine glasses to a good spider catcher, in five-minute episodes, it will be testing out of these products by Insider.
The Great Cheese Hunt—This will be a "global quest to find the most delicious cheese dishes the world has to offer." The first five episodes span three countries and five cities. The Insider reporters seek out the cheese dishes that have to attract its digital audience already.
Science the Sh*t Out Of It—This is a Mythbusters-meets- Brain Teasers type show. It generates weekly episodes of three to four minutes. Each episode faces a fundamental question of everyday life: Is coffee better for you, how much sleep is enough, will sitting all day kill you and others.
Rising Stars with Neil deGrasse Tyson—In collaboration with StarTalk Radio, Rising Stars is a one-on-one interview series. Neil deGrasse Tyson will host this show that focuses on the young generation of leaders in innovation and tech.
Condé Nast Entertainment
Virtually Dating—A five-episode series from CNE's The Scene, Virtually Dating will premiere later this month. Virtual reality can take place when two people are set up on a blind date.
Discovery Communications
Celebrity Animal Encounters—From Animal Planet, this show will feature celebrities like Kristen Bell, Fabio, and Justin Hartley as they share their personal stories with loveable, crazy, shocking and hilarious animals. Asylum Entertainment can animate by these five stories.
Still, a Mystery— There are so many unanswered questions in each episode of this limited series from Investigation Discovery and will re-examine a single crime. This show will present evidence and new theories, through original interviews with law enforcement, family members, and private investigators, and feature social media activity and news footage.
Say Yes to the Dress—A spinoff of the popular franchise on TLC, this original series features brides that are surprised at designer trunk shows and treated to the ultimate bridal experience with expert help.
The Dodo
Comeback Kids: Animal Edition—viewers can determine the challenges and the people who refuse to give up on animals facing difficulties. Each episode features one animal's rescue and rehabilitation journey.
Pet Parent Lifehacks—This shows tips and tricks for pet parents to keep their pets healthy and happy in weekly series.
Party Animals— one of the best documentary of seiner party animals series celebrating their significent reach Worldwide. Starting from "bark mitzvahs" to the end "cat-quinceañeras."
Nitro Circus
Mic'd Up— Mic'd Up will show viewers a new perspective as they both watch the action and listen to the thoughts of world-class riders, as they get ready to perform some of the most desperate action sports tricks in the world. Show what it takes to be a Nitro Circus rider, think ultimate dirtbike riding and other extreme activities.
Now This
Apocalypse NowThis—This multi-part series examines the different ways in which life as we know it could be wiped out and if there's anything we can reduce the disaster.
Who Is…—A weekly top celebrities that explores the people behind President Donald Trump and what their histories.
Quartz
Machines With Brains—The devices have brainpower in this series will follow people who are navigating industries. Each Episodes will takes time from 4-10 minutes. And focus on how robots and AI machines are becoming more commonly used within homes and industries.
Because Science—Because Science will attempt to make sense of the world around us. However, with a unique combination of "striking footage and accurately-wrought animation."
Seeker
Focal Point—Focal Point is a weekly documentary series which will take the viewers to the pecular places in the world. They reach help you to see the unique places anywhere in world.
How Close Are We?—This series is a comprehensive look at how close we are to solving science's sizeable mysteries and challenges.
Thrillist
Thrillist Investigates—Thrillistis from Animated series, this will take viewers on deep dives into burning questions like who invented pot brownies, or how did hip-hop and malt liquor start to go together?
Job Goals—This will help you to meet people. Likewise whose jobs make you feel jealous, from marijuana critics to ice cream flavor inventors. Job Goals will show you the posts you wish you had in every week.
Conclusion
These are various shows that mentioned above are very useful regarding Facebook shows. The Facebook publishers and Content creators can reach the audience using these shows and engage with the community. The visitors can learn many things when they reach to their Blogs.
Conclusion
Facebook is going to fund the original video content which will be documentary series, reality shows or scripted programs. Here we have listed the complete guide to know about Facebook Watch and its services.